Sekumpul Waterfall, located in the village of Sekumpul, is touted as the most beautiful waterfall in Bali. To see it up close requires a little bit of effort though, so this is one for dedicated adventurers. It's a tough trek, but totally worth it. Sekumpul Waterfall is often best enjoyed from a distance so that you can see it in all its glory. You see, Sekumpul Waterfall is actually made up of seven different falls, all reaching different dizzying heights into the treetops, and each spilling varying amounts of water.
Hey, adrenaline junkies – how does sliding down a thirty-five-metre waterfall sound? Yep, pretty awesome. Well, you can find this natural water slide at Aling-Aling Waterfall, located in Sambangan village. With its inviting, crystal clear plunge pool and shower-like spray, you'll want to pack your bikini for this one. The waterfall falls from a steep cliff and is surrounded by lush jungle, so it's just as beautiful if you simply want to admire from a distance. The journey to get there can be a little tiresome, with treks across rice fields and up and down many steps, however, you won't be complaining when you reach this magical oasis.
Fiji waterfalls also known as Triple waterfall or Lemukih waterfall, Lemukih Waterfall is very unique because it consists of three waterfalls. Waterfall on the far right is the most high, with a height of about 50 meters. The highest waterfall is accompanied by two small waterfall on the left side. Under the highest waterfall, there is a pool that is wide enough and you can swim there.
The waterfall is about thirty-five metres high, surrounded by lush greenery, and if you're really lucky, you might even spot wild monkeys hanging out in the trees and drinking from the falls.
Nestled in the rainforest around Munduk Village in Buleleng, lies Niagara Munduk – the Niagara Falls of Bali. There are two falls here, with the most spectacular being Munduk Waterfall which some visitors have compared to a film set. Not only is the fifteen metre high waterfall a jaw-dropping spectacle, but the area around it.
The journey here is quite lovely, with lush green rice paddies and plantations in every direction. Prepare for a long descent ahead. Before you see it, you will most definitely hear it, as the thunderous sound of thousands of litres of water crashes into a pool below.
The waterfall is special in that there are two flows of water to be seen, with water cascading down steep rocks surrounded by gorgeous greenery. Here, you can take a refreshing dip in the plunge pool at the bottom.
Tegenungan Waterfall is not situated in the mountains, which is quite rare for waterfalls in Bali, but actually in Ubud village. Like many others, it still boasts beautiful lush greenery all around, and the natural springs are perfect for bathing.
This gorgeous waterfall is surrounded by beautiful green rainforest and is a good 800 metre walk to get there. The trek is by no means easy. At fifty metres high, it is a giant, and what's more, you can jump into the plunge pool below and enjoy one of Mother Nature's beauties.
Spiritual healings are known to take place here, thanks to its stunning and unspoiled, natural surroundings that are perfect for such magical experiences. The waterfall has a gentle slope and water flow, again making it an ideal setting for healings, and of course bathing.
Yeh Mampeh Waterfall is one of Bali's tallest waterfalls. Aptly named, Yeh Mampeh means 'flying water' in Balinese, and it is virtually untouched. Hike down the falls, explore the nearby caves, swim in the clean fresh water, or just soak up the splendid views of the green hills.
Here are two waterfalls, a smaller and a larger one, plus a small pool at the bottom which is perfect for swimming. Legend says that the Carat Waterfalls are haunted, and bad luck will be brought upon any visitor who says negative things about the falls.
SingSing has been touted as the most romantic waterfall in Bali, due to its calming and peaceful atmosphere. Sit among the natural surroundings with your lover, listen to the calm waters rippling down a cascade, or take a dip together in the freshwater.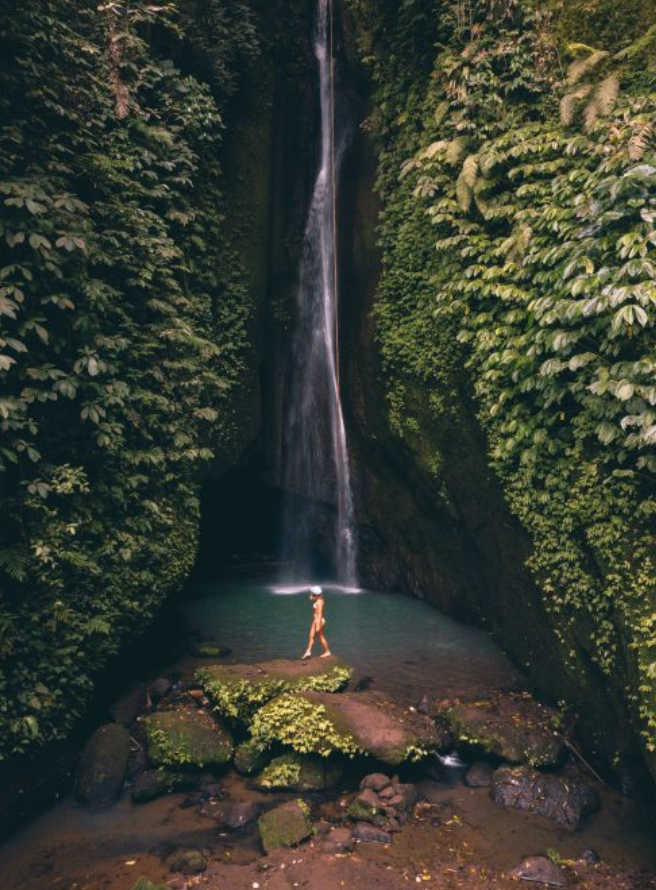 Leke Leke remains somewhat of a secret. You'll hear the falls before you see them, and when you do, you'll spot the breathtaking surge of bright white water falling between a dramatic black cave.
The waterfall is amazing. However, getting there is not easy. The path is wet and slippery and the steps not for the faint hearted. Make sure you pack good shoes and water. Don't be surprised if your the only one here . Definitely worth a stop.
This waterfall has a height of approximately 25 m. There are 3 streams of the waterfall, but the other one is on the other side, not direct flows in the same place. Visible from the front of the waterfall is twinned with a fairly heavy flow.
This 20-metres waterfall become popular through social media. Amazing views await from the time you leave the car till you swimming in the water below.
Kanto Lampo waterfall may not be one of the best-known waterfalls in Bali, but it's still a perfect stop to include on a day trip from Ubud.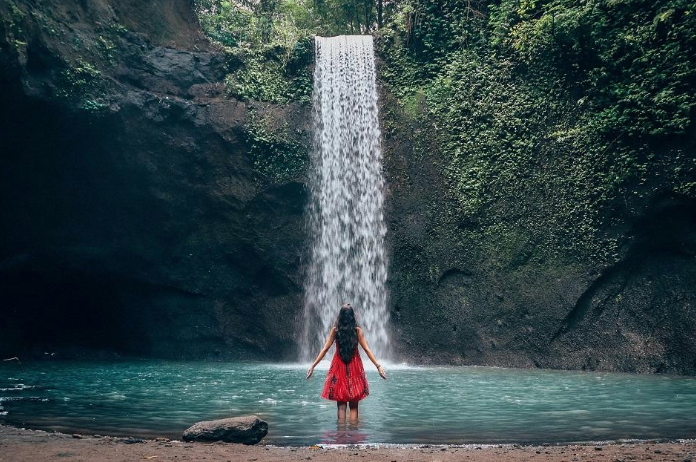 Tibumana Waterfall is definitely one of the Bali waterfalls that is still kind of a secret. The road into Tibumana is spectacular and one of the best palm tree covered roads we've seen in Bali.
From parking area, you will only need to walk for around 300 meters to find this beautiful waterfall. This place is also perfect for relieving fatigue.
Very beautiful hidden spot! A narrow Herrn valley and with a pretty waterfall at its end.

Another one of Balis un discovered waterfalls, sit and listen to the roaring water and the birds singing away, most likely completely alone.
Of all the Bali waterfalls, Tukad Cepung Waterfall was the most unique and magical one we think as you venture though some small caves and end at a stunning waterfall.